Each associate loss is estimated to cost a law firm in excess of $400,000 in hard and soft costs.
So what are you doing to identify the attorneys most likely to thrive within your organization? And, once you have them, what is your firm doing to develop and keep its top talent?
Our Attorney Assessment can help you:
Hire Better
The current metrics and methods that most law firm use in hiring – law school, grades, extracurriculars, work history, an assumed book of business and unstructured interviews – are no better than a coin toss at evaluating which candidates might be successful at any given firm. Worse, many of these processes introduce personal biases into the hiring process that may lead firms to hire the wrong lawyers based upon factors not critical to attorney success.
Success and fit are based more on intangibles – the things you can't easily see.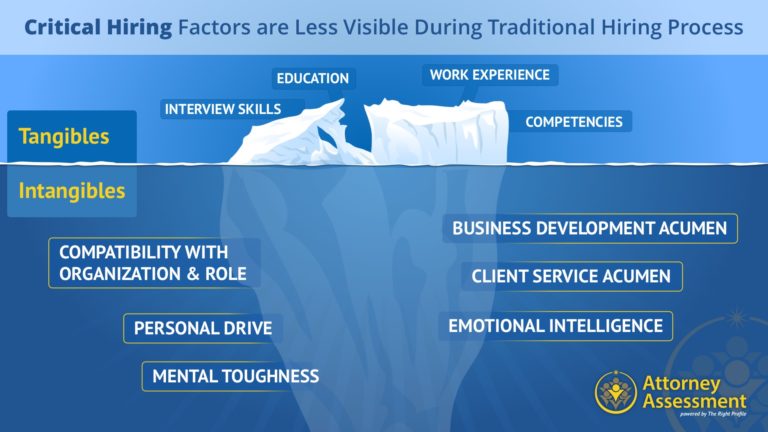 Think of it like an iceberg; it's the 90% below the surface that can sink the ship. Understanding what is there can help you avoid disaster.
Plenty of generic hiring assessments can tell you about a prospect's attributes, but The Right Profile's Attorney Assessment measures much more.  We know more about attorney traits than any other company on the planet, and our assessment was purpose built for law based upon years of research and data analysis to determine and measure success and career longevity factors in attorneys.
Our proprietary database of attorney traits can compare candidates to attorney norms throughout country and we can also measure your firm's unique culture and help you maximize fit for the firm generally, by office or even by practice group.
Our Attorney Assessment can help you:
Improve Talent Development
It may sound obvious, but not all fifth-year associates are alike. So, the business development programs and coaching that may work so well with one attorney may send another looking for a new job. We can help you develop your attorneys in the way that they want to be developed. We provide insight into the motivation and needs of your attorneys, often in a way that they will never tell you directly or even be able to verbalize themselves.
Matching training, mentors and other programs based upon attorney traits and needs makes programming more effective and valuable. In fact, multiple firms have shared our management and development reports with professional development coaches to get coaches up to speed immediately and better understand their attorneys' motivators and needs long before the three to five sessions that might otherwise be required to gain even some of this same insight.
Our Attorney Assessment can help you:
Keep Your Best Talent
Sadly, many law firms use a passive retention model, basically just paying their attorneys and hoping that is enough to keep them around. Studies show that passive model does not work and that your top talent, those with options to take their skills elsewhere, will leave. The problem is magnified with millennials, who tend to generally value personal learning and development over other generations. Millennials want to see that the firm is invested in them and is continuing to invest in their development. Our Attorney Assessment is one way to show your younger attorneys that the firm is working to understand them as a person, not just a profit center.
In short, The Right Profile is now offering law firms the same types of tools that help our world-leading clients hire, manage and develop their talent. We can help you build championship teams and create environments in which attorneys thrive. With our help, you can build your own talent pipeline, just like our professional clients, so that your business continues to grow with your people.
"It was fantastic! Best teambuilding/profile work I've been a part of."
"Our people are our competitive advantage. The Right Profile will help us continue to improve in ways we were unable to without that tool, which will further enhance our growing business."
Attorney Assessment Report
Table Of Contents

Getting Started
It's easy to get started with Attorney Assessment, in fact most of our firms have us integrated in their hiring or talent development processes and have attorneys in there system within a month of signing up! We make it easy for you:
All assessments and your management console are online and secured, so there is no software for the firm to install or maintain.
Our report content is customizable, so attorneys get the self-assessment materials they need while talent development and hiring personnel get the tools they need.
Although we offer certification courses for power users, our reports were written to be easily understood by even the most casual user.
We provide all of the tools and training that you need to get started, and we also have a network of consultants that can help you design workflow processes, leverage the new data available to you and the firm, build better client teams and improve business development using our team calculator tools, and even conduct training sessions based upon report insight.
More About Our Attorney Assessment
Thousands of lawyers have taken the Attorney Assessment since its launch in 2014. Many took it as part in our sponsored Attorney Trait Study and others took it (and continue to take it) as part of a service subscribed to by the law firm or organization for which they work.
Attorney Assessment (leveraging our proprietary Sheffield Legal Assessment) measures 22 traits that were identified through extensive academic research and focus groups with attorneys, law firms and other legal employers to be critical to success in the business and practice of law.
Additionally, it examines eight cognitive functions tied to one's mindset and behavioral preferences. The assessment is taken online and takes 30-40 minutes to complete. The results are immediately available upon completion in multiple, customizable reports and can be accessed online anytime through a secure login.
More details about our Attorney Assessment and the research behind it are available in our white paper, Assessing Lawyer Traits and Finding a Fit for Success.
Contact Us To Get Started